Lobbying for Federal Hate Crimes Act
Planned for January 6
A press release from LLEGO.

LLEGO Endorses January 6 Hate Crimes Act Lobby Action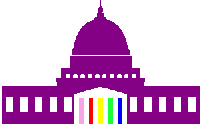 On November 5, the National Latina/o Lesbian, Gay, Bisexual & Transgender Organization (LLEGO) became the first national gay/lesbian organization to endorse the Be Seen! Be Heard! January 6 Congressional hate crimes act lobbying effort.
LLEGO joins the renown Whitman Walker Clinic, American Catholic Church Maryland Diocese (not Roman Catholic), Inter-Faith Working Group, HERO magazine, Seattle Gay News, on line glbt news server Gay Today, the main-stream Washington DC InTowner newspaper, and more than a dozen other organizations who have already come out in support of the January 6, 1999 congressional hate crimes act lobbying action.
Now officially known as the Be Seen! Be Heard! National Lobby Congress Day, the grass roots, originated movement's goal is to encourage American citizens to come to Washington on January 6 to personally lobby their representatives and senators for the immediate introduction and enactment of hate crimes prevention legislation.
Be Seen! Be Heard! National Lobby Congress Day is not an organization and its leaders have no titles. Rather, the effort is a people-generated, nation wide movement to place ever increasing constituent pressure on members of congress to extend coverage of federal protection from hate crimes legislation to victims selected for violence because of their sexual orientation.
The grassroots effort, believed to be the first political action of its magnitude to originate and organize on the Internet, was sparked by the 105th Congress's failure to enact hate crimes legislation, and by the recent murder of 21-year-old, gay college student Matthew Shepard in Laramie, Wyoming. January 6 is the 106th Congress's opening day and marks three months to the day from when Matthew Shepard was kidnapped, tortured and left hanging from a fense on a Wyoming prairie. Shepard died as a result of his injuries six days later.
Supporters of federal hate crimes legislation will arrive on Capitol Hill during the morning hours of Wednesday, January 6 to call on the offices of their respective representatives, senators and members of the Republican leadership. Many people are expected to seek meetings with Speaker of the House New Gingrich and Senate Majority Leader Trent Lott.
Those seeking to meet with their congress member or senator are being encourage to call well in advance to schedule an appointment. Those who can, are being asked to return to their legislators' offices on the following day, Thursday, and again on Friday to press their message.
"We are simply encouraging Americans who recognize the need to include sexual orientation under the federal hate crimes act to exercise their constitutional right to petition their elected representatives," said Jennifer DeWalt, a lead organizer. "We are not organizing a march or a demonstration, or a weekend feel-good rally on the mall that will wind up being about as productive as a huge group hug."
&nbsp
---
The Be Seen! Be Heard! information page at http://www.geocities.com/CapitolHill/2047/march.html is updated on a daily basis.
Those interested in learning more about the January 6 Hate Crimes Act lobbying effort should visit the web site or contact lobbycongress@hotmail.com.